Commercial/Industrial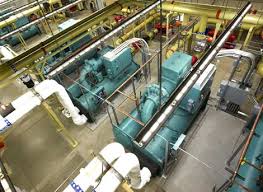 We provide full-service HVAC maintenance for our commercial and industrial customers, with dedicated staff to ensure ongoing system operation, inspections, warranty compliance and quick repair.
Our commercial systems maintenance programs can keep your building operating costs low and ensure you get the most from this asset.
We service and maintain all brands of HVAC equipment including:
Chillers
Air-handlers
Pumps
Motors
Variable frequency drives

Cooling towers
Pneumatic-controls
Air compressors
and much more
Our trained, certified, and experienced technicians are available 24/7 to take care of all your maintenance and repair needs, including immediate emergency response. Give us a call to schedule a site visit so we can discuss how we can assist in your maintenance needs.
Systems Design & Installation
We specialize in retrofitting older buildings with new high-efficiency heating, cooling, refrigeration and control systems. We will also install the systems in your new building from the ground up.