Service Plans
Our full service maintenance plans will give you peace of mind 24 hours a day, 365 days a year. For one annual fee we will take care of your heating and cooling system around the clock. Our technicians will maintain your heating and cooling system maximizing efficiency and minimizing down time. Your comfort is our concern. For one annual price we maintain your entire heating and cooling system. Your service plan is customized to meet your needs.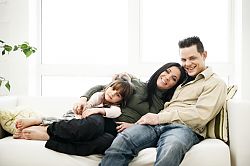 Service plan includes total protection:
Spring and fall system preventative maintenance
No excuses same day emergency service
Full repair and replacement coverage
We will ensure your heating/cooling system operates at maximum efficiency (saves you
We stock most parts needed to get your system back in service quickly
Semi-annual System Inspections
Proper operation of your heating and cooling systems isn't just important for your comfort; it can also affect your safety. Imagine being without heat on those below freezing nights or without air conditioning on those hot summer days. Keeping your system tuned-up with semiannual maintenance checks is critical to ensure long system life, reliable operation and optimum system efficiency.
Your semiannual inspection would include a thorough check of all your system components to include cooling system, heating system, and air distribution. Below listed are just a few of the checks that our comprehensive inspection will include:
Refrigerant charge
Electrical components
Filter inspections
Measurement of system power usage and determine efficiency
Duct work condition
Furnace burners or electric elements and gas leaks
Safety and control circuits and carbon monoxide emissions
Condensate drain lines cleaned and checked
Chillertek is a locally owned and operated service company. We take care of our customers around the clock. Our preventative maintenance program is designed to prevent most emergencies. However in those rare occasions we will be there for you. No excuses!
Coverage for other major appliances such as water heaters, stoves and refrigerators can also be added to your coverage.